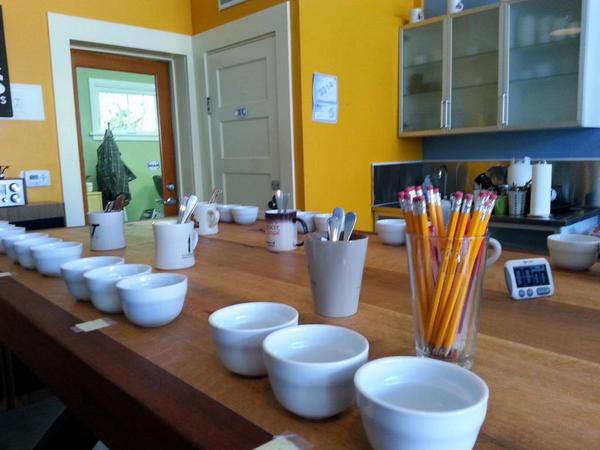 The NWCTL setup. One of the cups has different coffee than the other two. Your job is to find which one it is.
One of the original NWCTL posters
Did you know that there is a league of intrepid coffee drinkers devoted to getting better at tasting coffee? The Northwest Cup Taster's League is the brainchild of Tony's employees David Yake, Bronwen Serna and Christos Andrews. Meeting monthly, the NWCTL is "a series of coffee-focused events dedicated to developing our most important tool: our palates." The NWCTL aims at not only developing palates for those in the industry, but also for showing the wide range of flavor possibilities that coffee has to offer through fun competitions.
The last competition took place in July at Tony's Coffee Bar in Seattle, where over 20 participants tasted their way through coffees from all over the world, roasted by some of the best roasters in the country. Highlights included a rare Sudan Rume coffee as well as some great Tony's Coffees thrown in for good measure. Winners took home prizes from Baratza and Bonavita. After the competition, beer was provided by Fremont Brewing. The next event is happening at Broadcast Coffee on August 15th at 6pm in Seattle. Follow the Northwest Cup Taster's League on twitter (@NWcuptasters) to find all the details for the next event. In the meantime, happy tasting!
Tags
Northwest Cup Taster's League
NWCTL
TCB
Tony's Coffee Bar
Category
Events